Leveraging Direct Mailers to launch an AR experience 
The Experience
USPS mailed over 1 million custom mailers to their business customers throughout the US to promote their new ground advantage shipping program. The enhanced ground solution provides a simple, reliable, and more affordable way to ship packages in two-to-five business days across the continental United States. With a simple and delightful experience customers can discover the ground advantage shipping program in a new and innovative way using WebAR.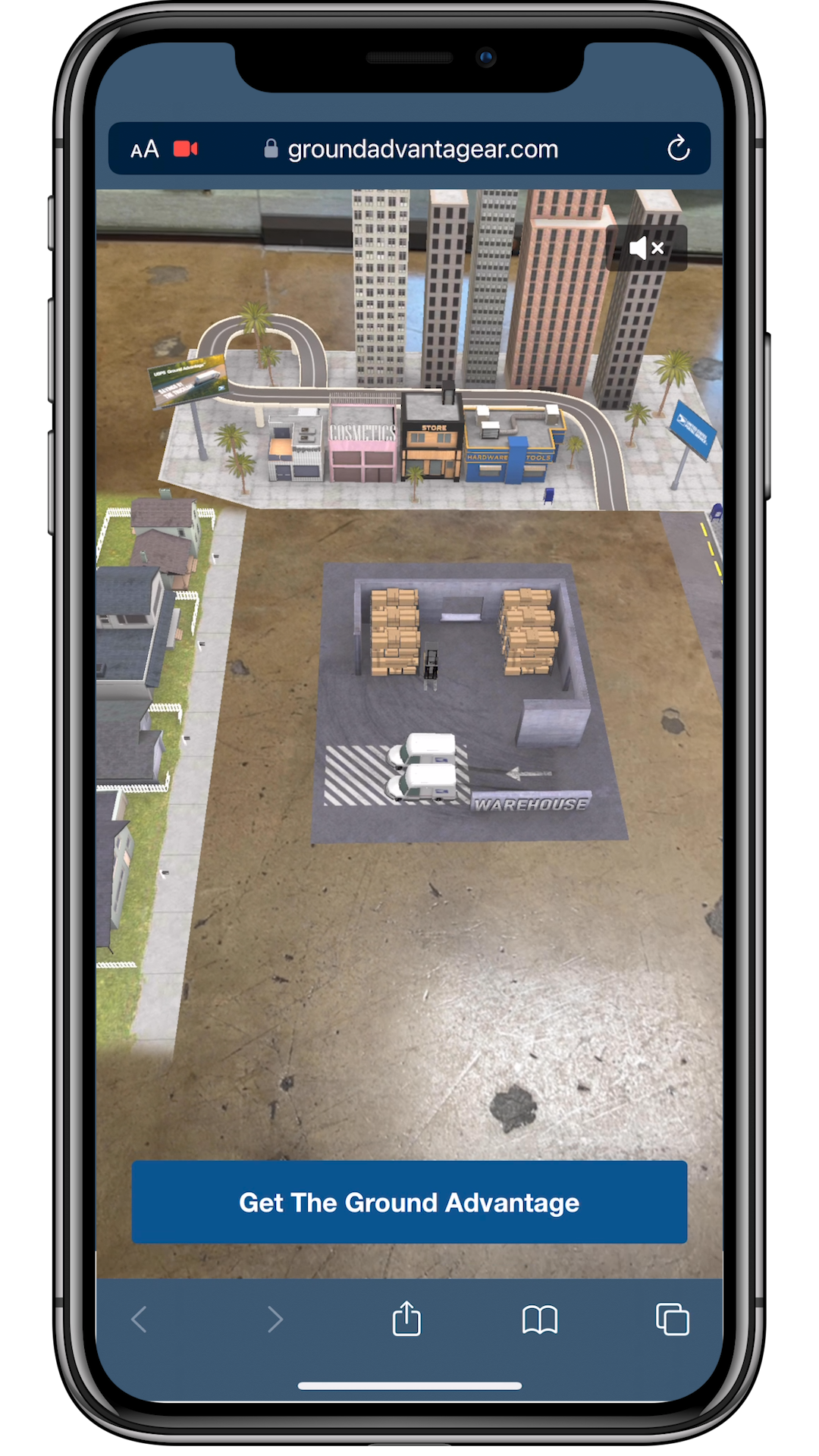 The main component of this mailer was a large QR code customers were instructed to place on the ground and scan with their phones. It directed users to an Augmented Reality experience where a virtual world representing different geographic parts of the US (East Coast city landscape, forested suburbs, Southwest warehouse district). Using image tracking we placed this world on the ground where the new USPS electric truck would make deliveries to different businesses. Along the way the truck would lay out key messaging of the Ground Advantage campaign to inform the users about the benefits of the program. To heighten the immersive experience, there is a layer of background sound design for each part of the truck's journey, resulting in a unique mixed reality experience for the user.
Success in this activation extended beyond just creating awareness of the new Ground Advantage service, and ultimately called for USPS customers to sign up for Ground Advantage.  At the end of the experience we presented users with the opportunity to register their business to start using Ground Advantage. 
3D Design
To give the USPS customer a variety of settings for this shipping program, we created different aspects of a city. We designed building skyscrapers with urban storefronts, suburban houses with lush trees, and a big box store district set in the southwest desert. We then modeled the new EV truck for the deliveries and animated boxes to show the ground advantage shipping. We also added some textures such as snow in the suburbs and sand in the desert to give the experience a more realistic feel.  The core visual of key messages writing out on the roadways is a consistent visual style used across print, OOH and other aspects of the Ground Advantage launch campaign.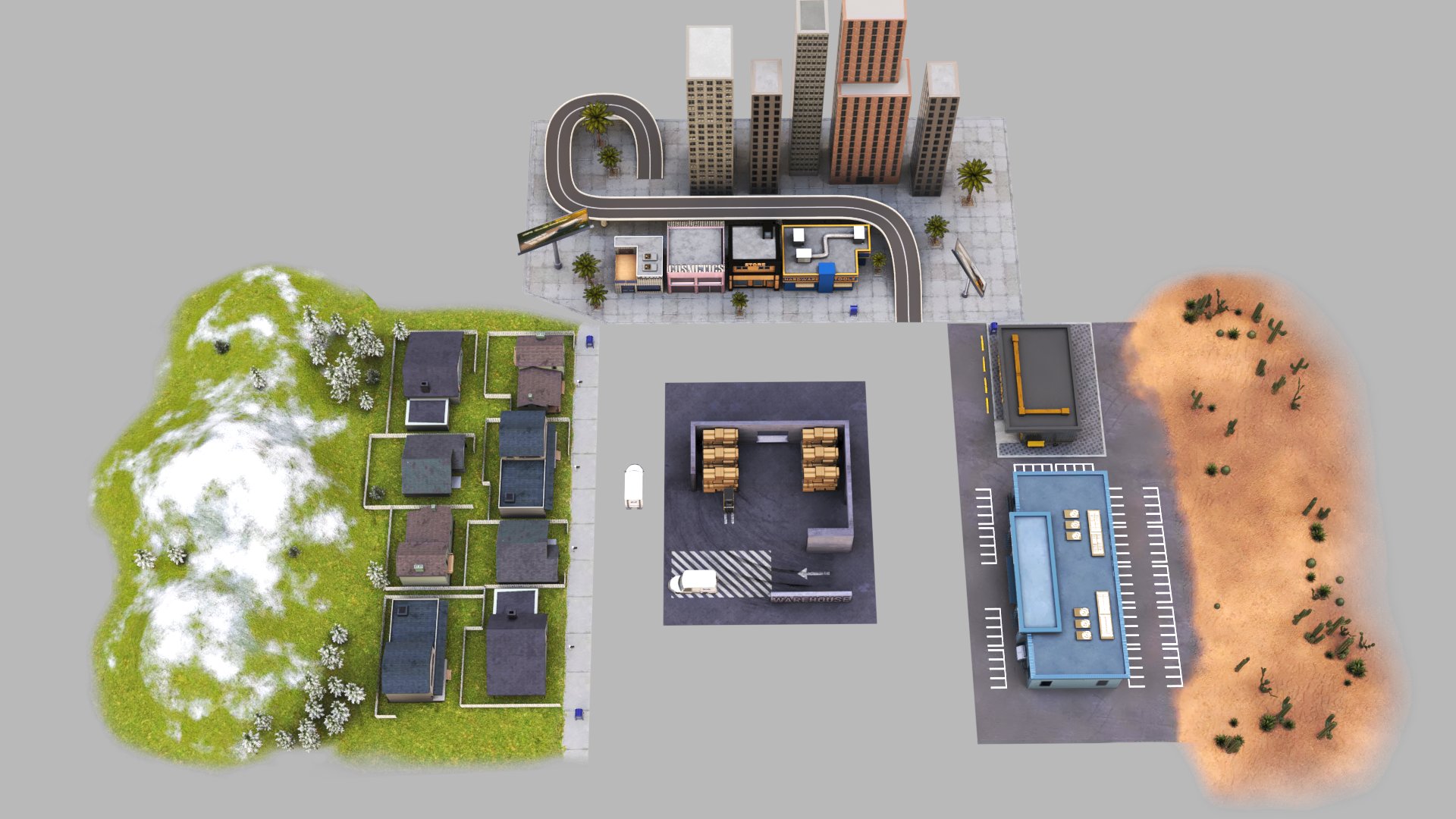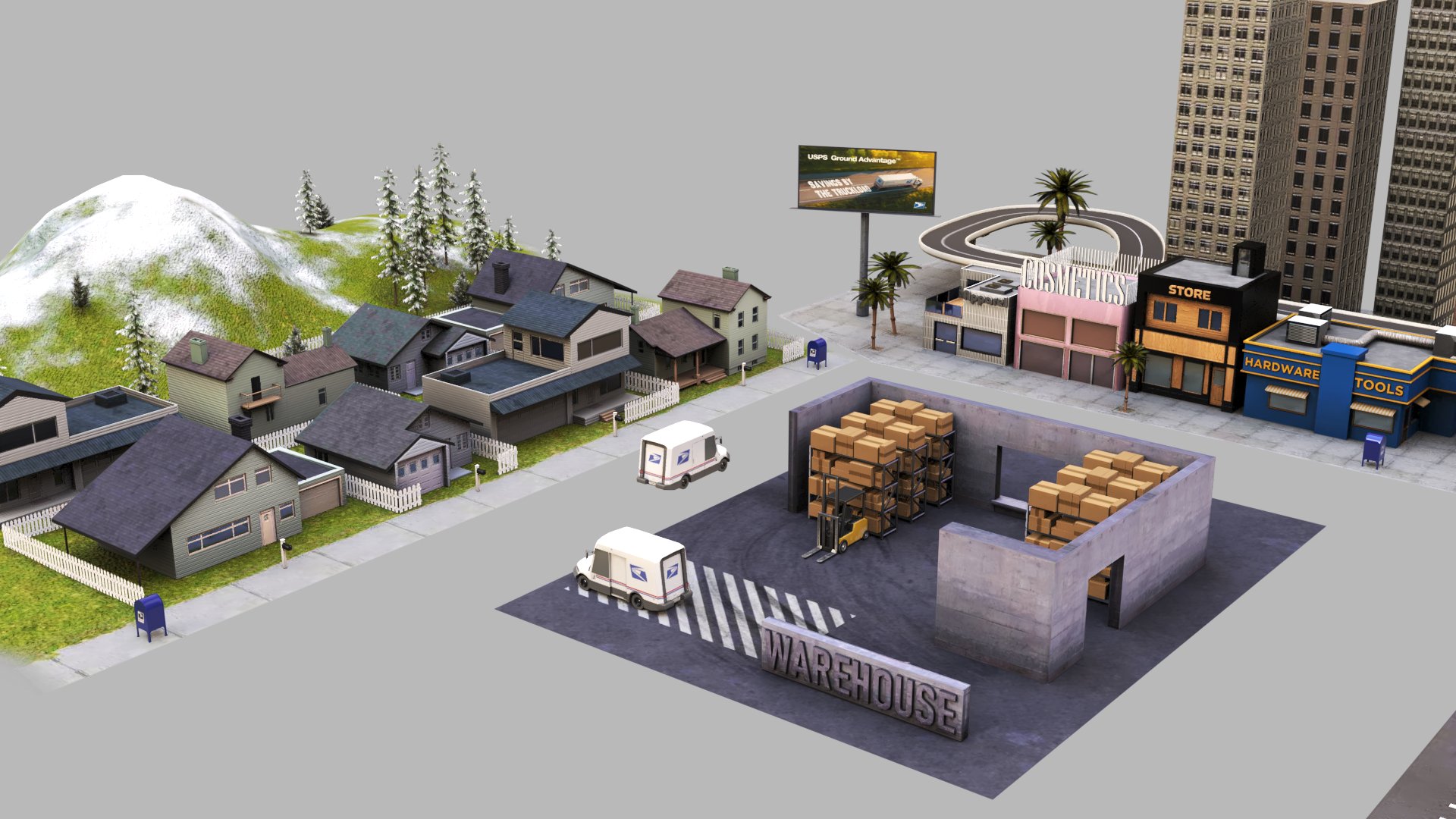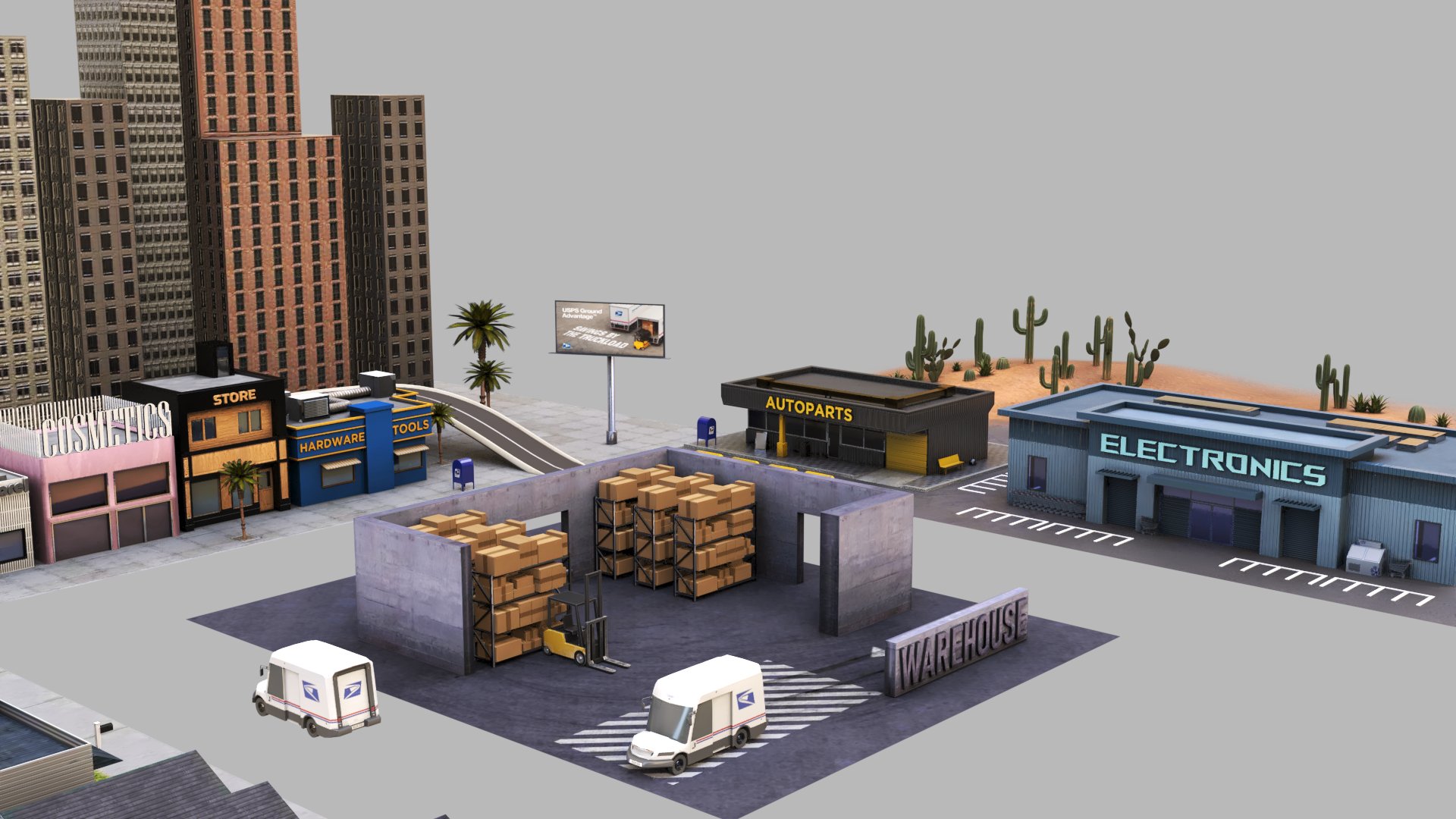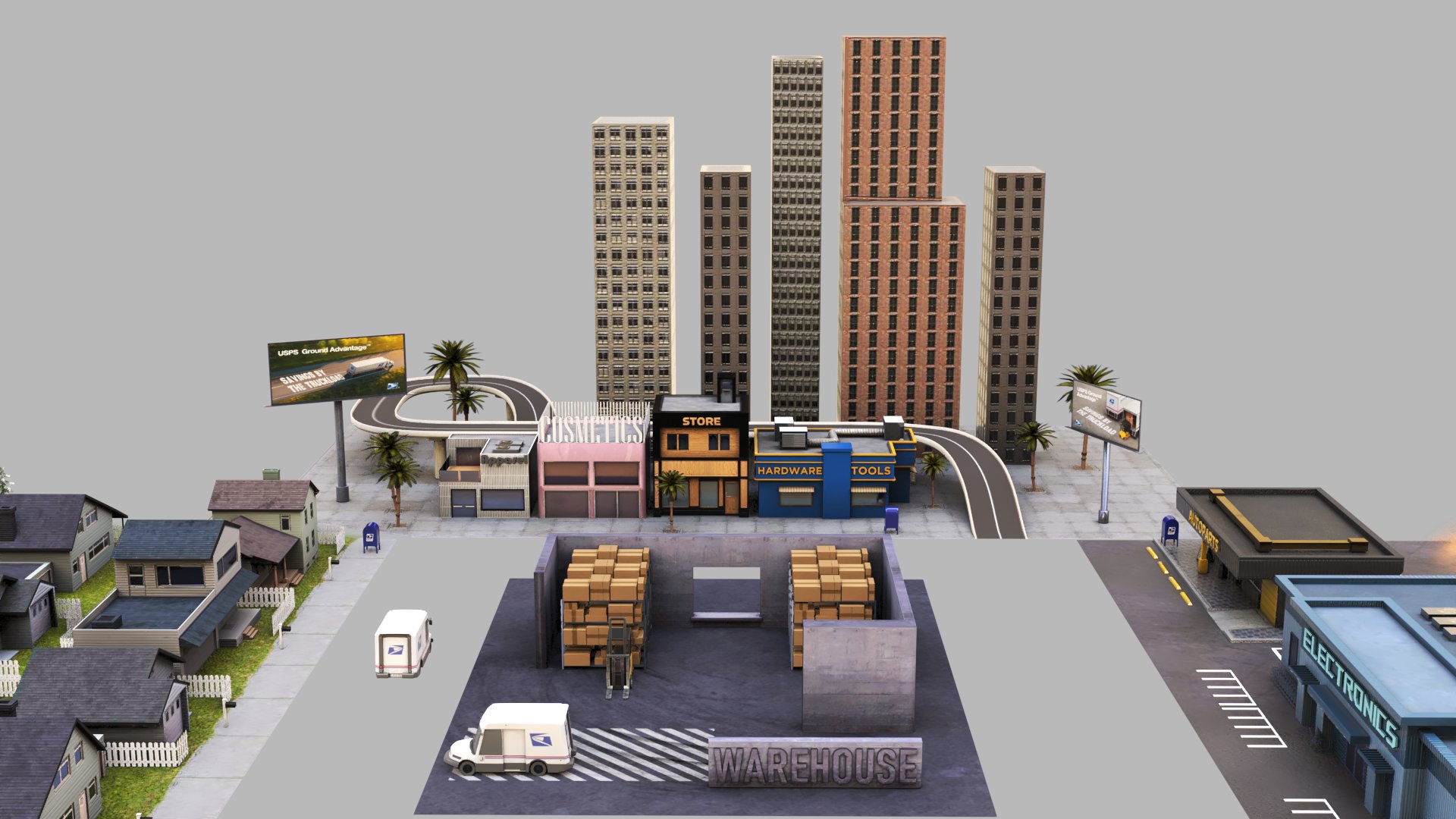 Creative Tech
We built the site using react and three.js and powered the AR experience through 8th Wall. We trained the engine for image recognition of the mailer in order to allow for image tracking and to ensure the virtual world would stick to the plain and the QR code. We created snow falling with WebGL and layered audio to the animation for additional sensory experience.