Turning A Leadership Conference Into An Experience
Talent Connect is LinkedIn's yearly tentpole event, shaping the discourse around a better world of work, and fostering community amongst talent leaders, through the strategic mantra of Work Changes Today.
In collaboration with LinkedIn's Creative Studio and Octagon, Tool was engaged with creative strategy, ideation and design, specifically to uplevel the event for 2023, helping to infuse a narrative through-line in the creative and an experience design approach that spoke to the executive level attendees at the conference.  
The Event
With 1800 attendees IRL and many more tuning in to the virtual Talent Connect Show, this annual event positions LinkedIn as the most pivotal brand in the talent industry. This year took place at the Javits Center in New York City.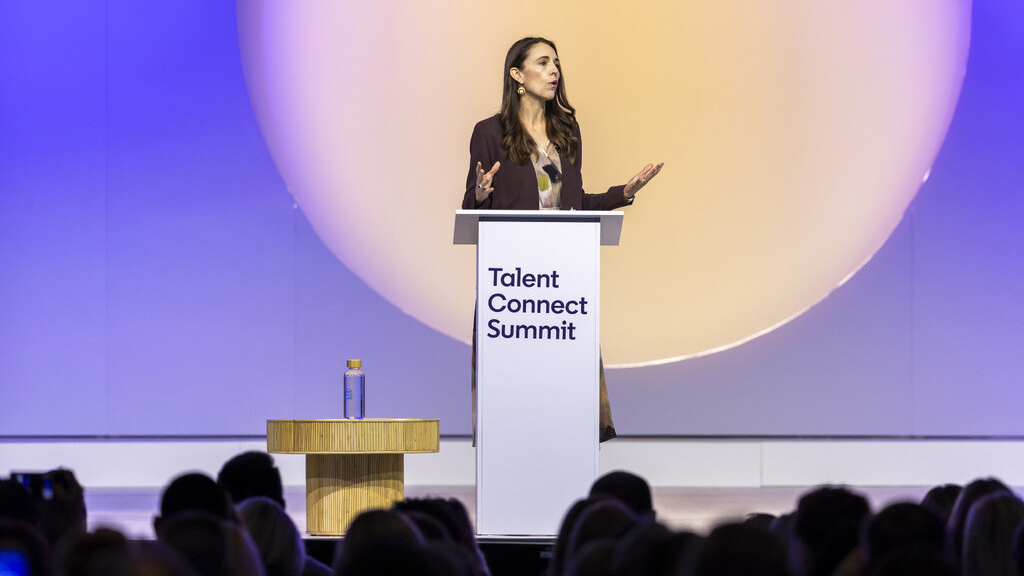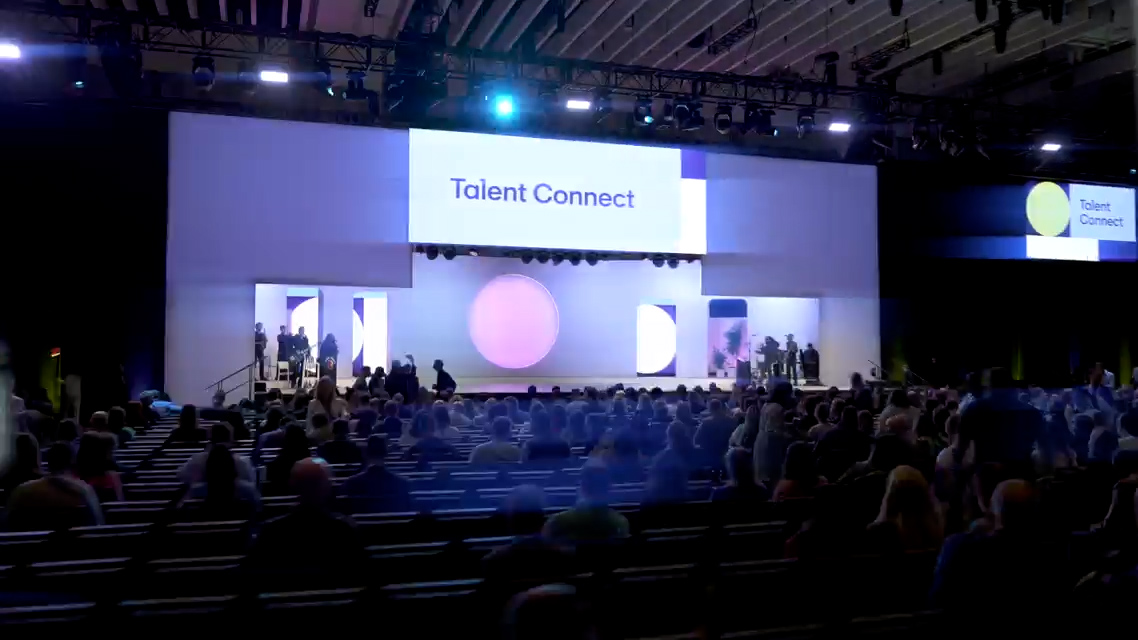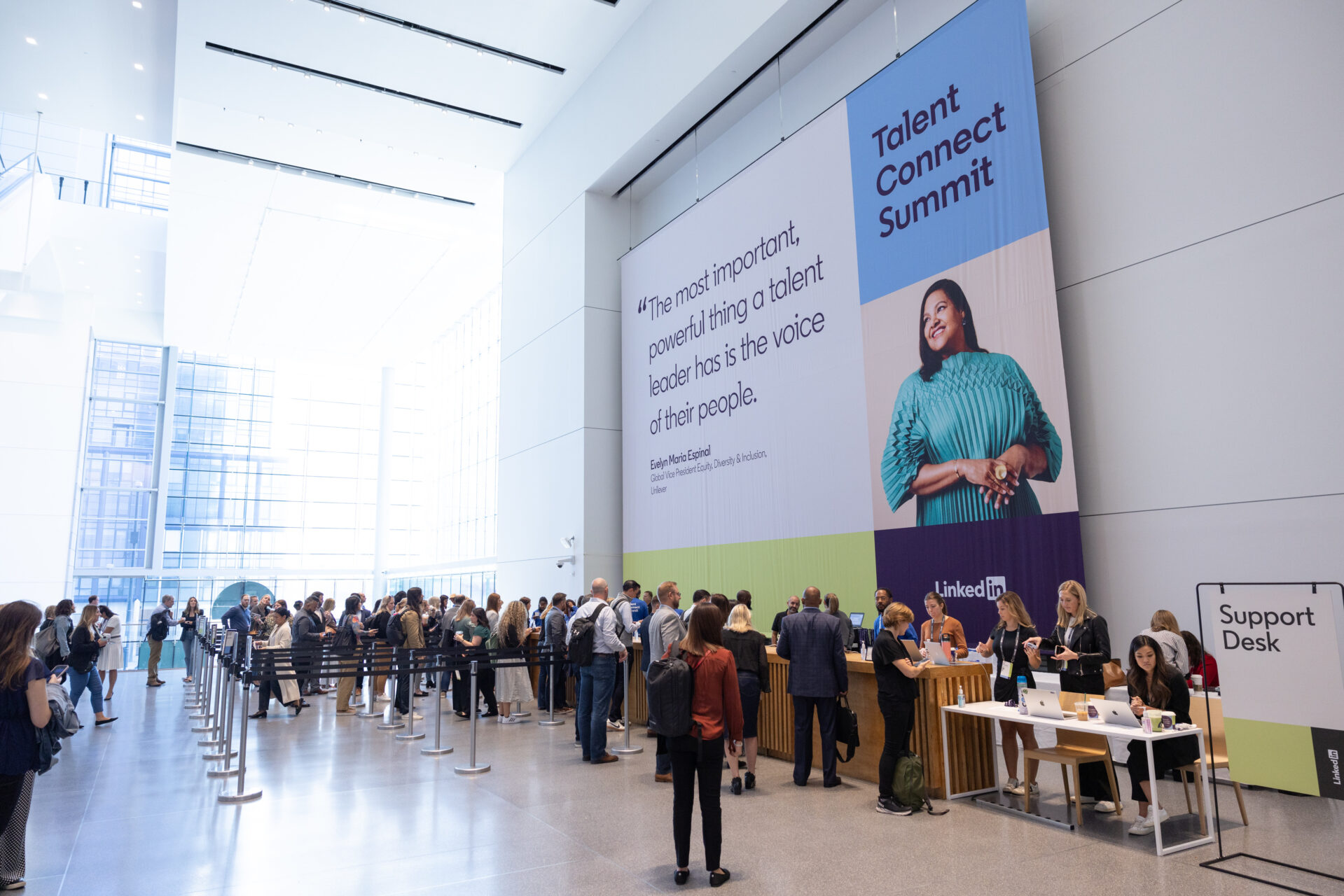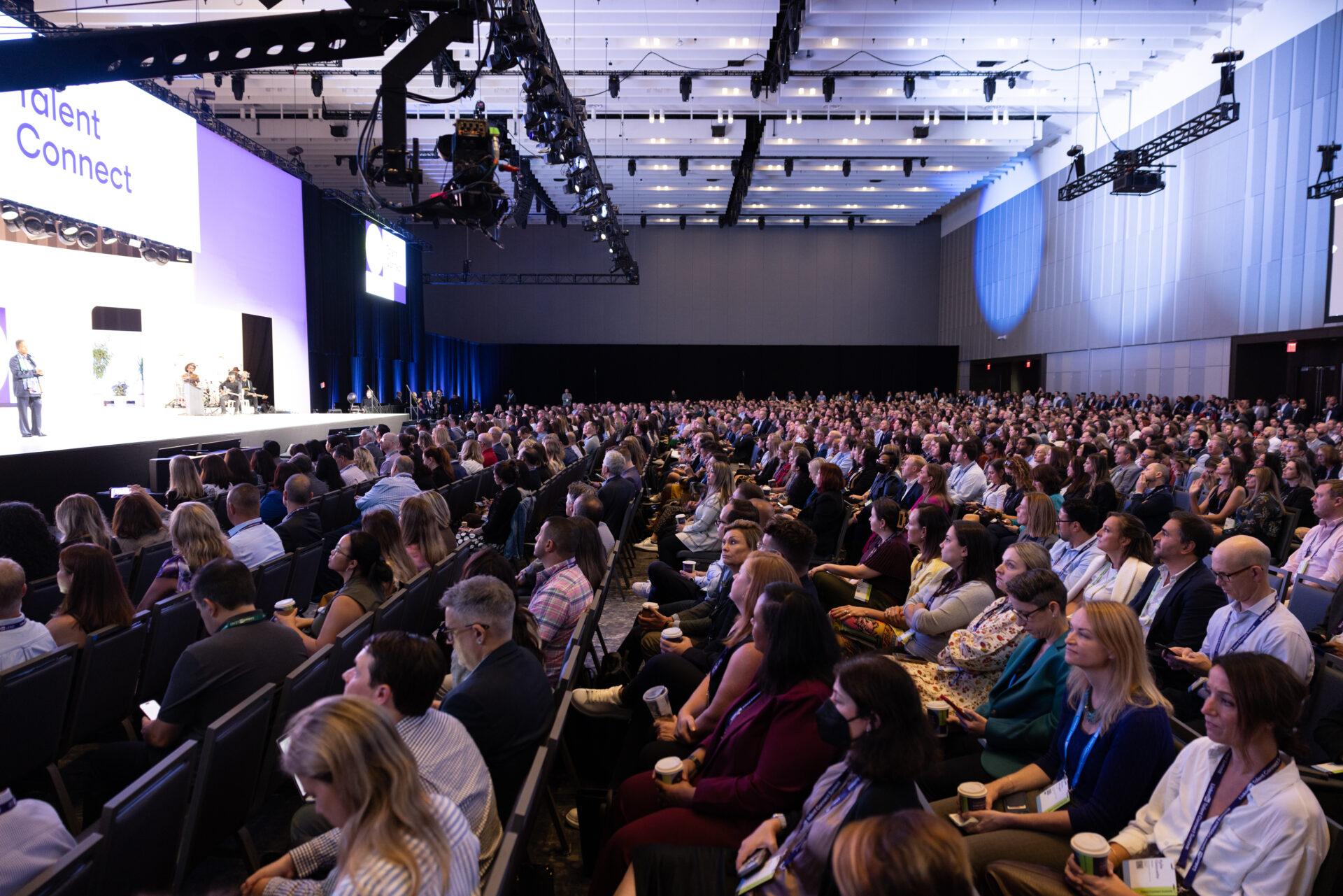 Activating on 2 full floors of the North Hall, the design and build spanned a main stage for keynote speakers, a virtual broadcast studio, workshop and meeting rooms, lounges and activations, as well as an opening reception and a closing party taking place at The Metropolitan Museum of Art.
Creative Direction
Beginning in early 2023, we dove into the creative strategic planning for the event, creating well-informed briefs with every key team stakeholder at LinkedIn, in order to ensure a holistic creative approach. Working alongside LinkedIn's creative studio we then developed the theme, Work Changes Today, across all touch points of environmental design and interactive experiences.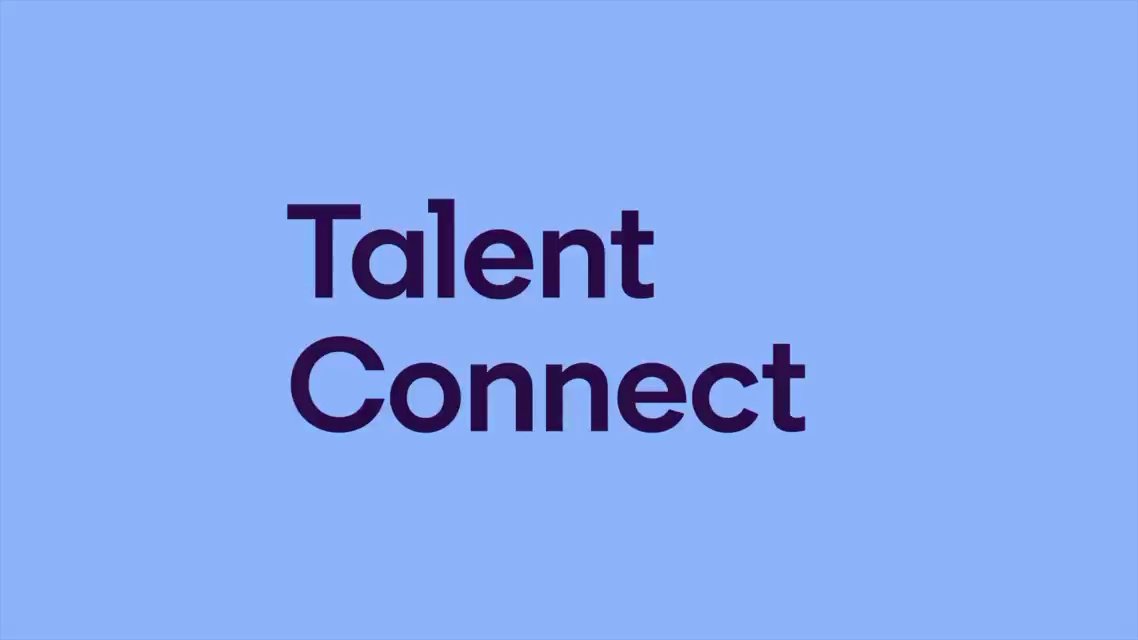 We took a classic design language that followed a simple grid, and provided experience and animation direction to thread our narrative of change through movement and transformation. 
Spatial Design 
We envisioned a main stage that took a nod from theater and utilized trivision graphic pillars and custom lighting design to create an ever-changing backdrop for the keynote speakers.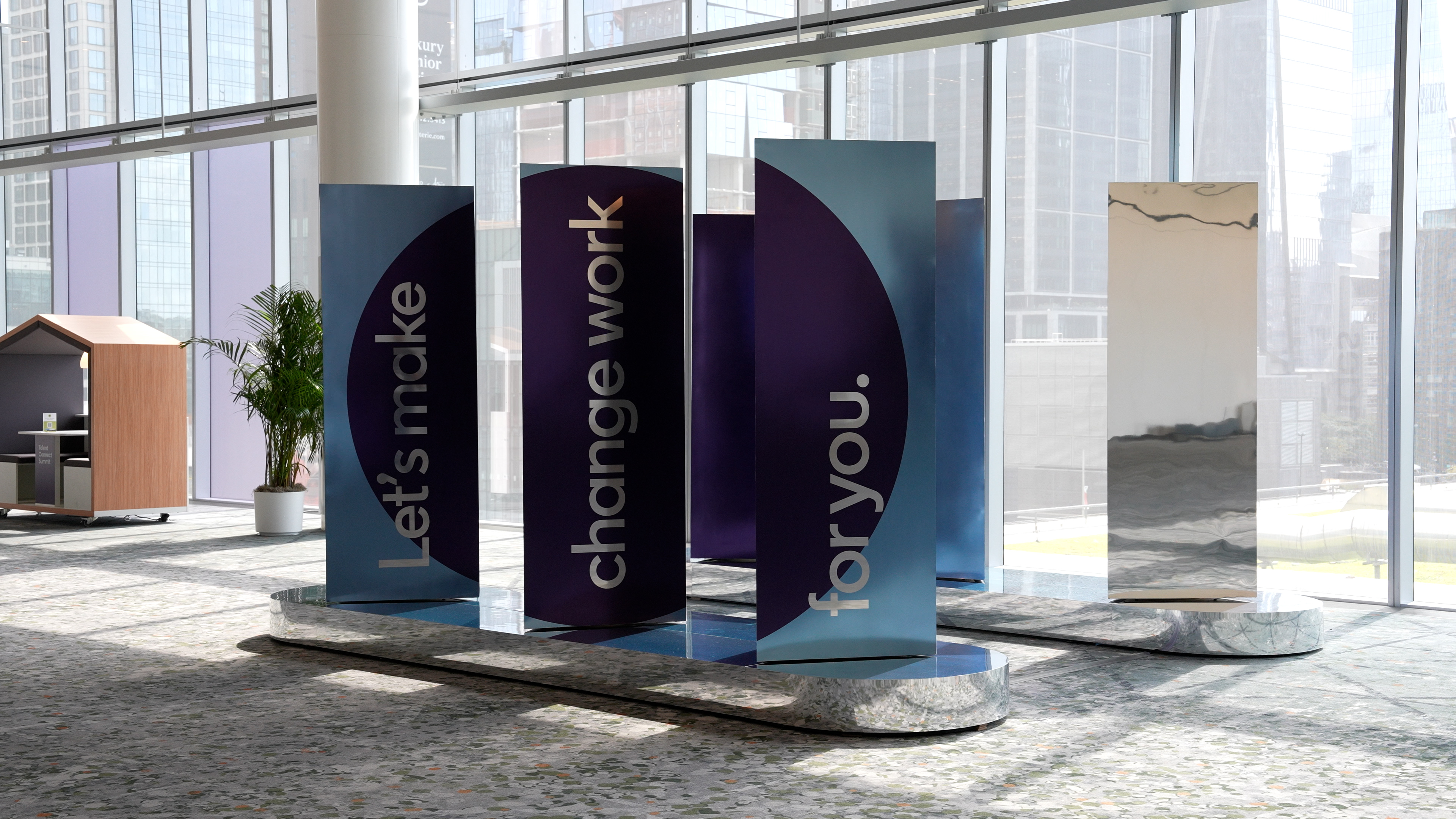 We brought that same trivision idea to a floor installation, celebrating the theme of the conference through rotating reflective columns featuring key messaging. Guests could explore this striking build and pose for pictures together for social.  
Activations Powered By Creative Tech 
For a spotlight on LinkedIn's own powerful AI we enlisted ChatGPT to turn their talent trends into a poetic opportunity, as guests watched a coffee cup trigger a haiku at the Insights Corner. We built out a bespoke animation package linked to a QR code scanner that dynamically displayed on a large LED wall. Codes printed on coffee cups scanned at the podium spoke to a custom backend, displaying a uniquely generated message for each guest based on data insights from LinkedIn.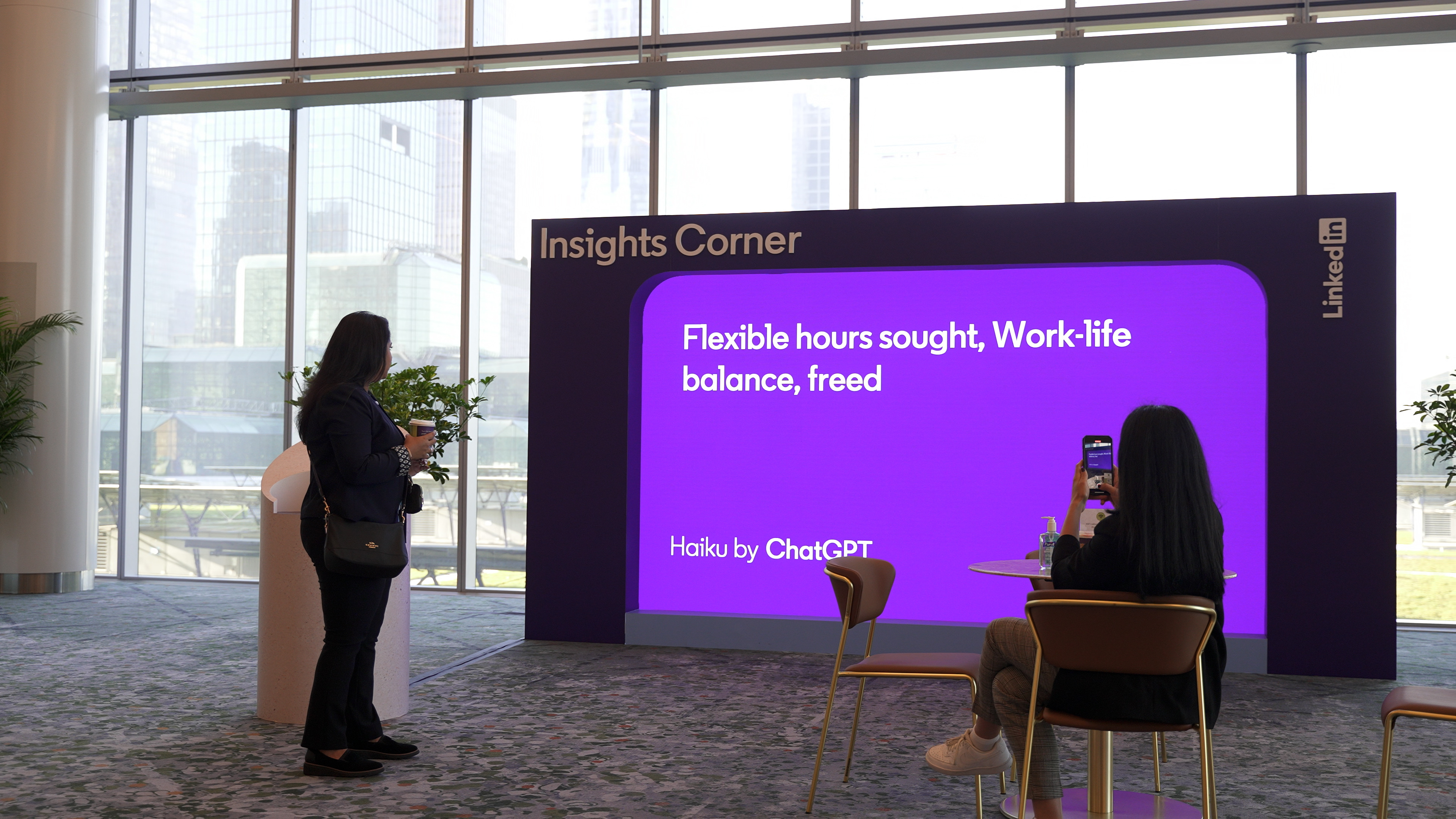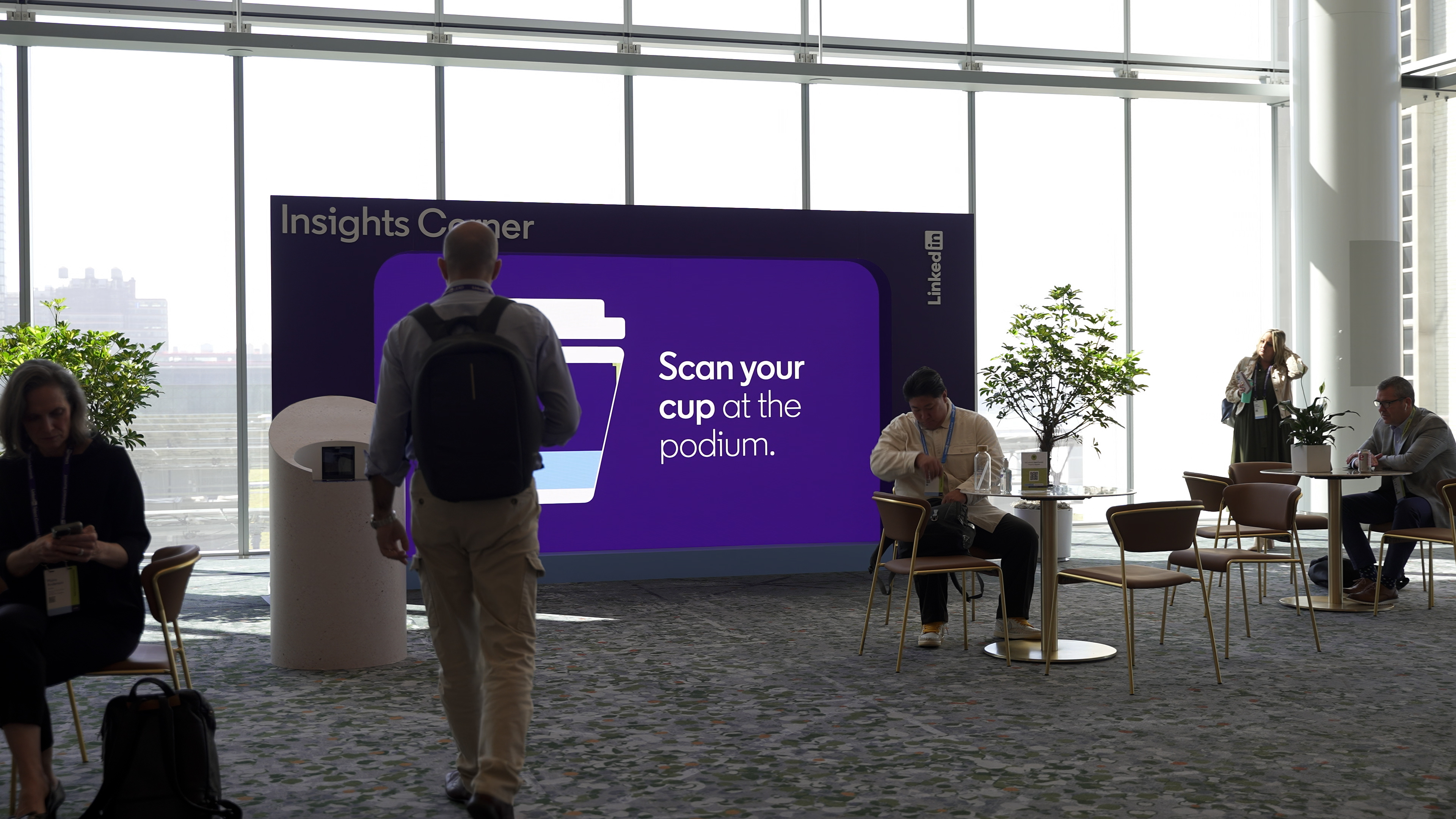 LinkedIn wanted to showcase their original content, featuring their Podcast Network, bringing talent into the space for live episode tapings. To facilitate this activation we created a webapp for guests to interact with podcasters live via their mobile phone, asking questions and reacting in real time. To maintain an accessible space, we transcribed the podcast live on surrounding monitors using Google's voice to text api. And to manage the Podcast Studio's programming, we built a custom admin panel for showrunners, allowing them to dynamically change out digital graphics and serve questions to the podcasters from the webapp.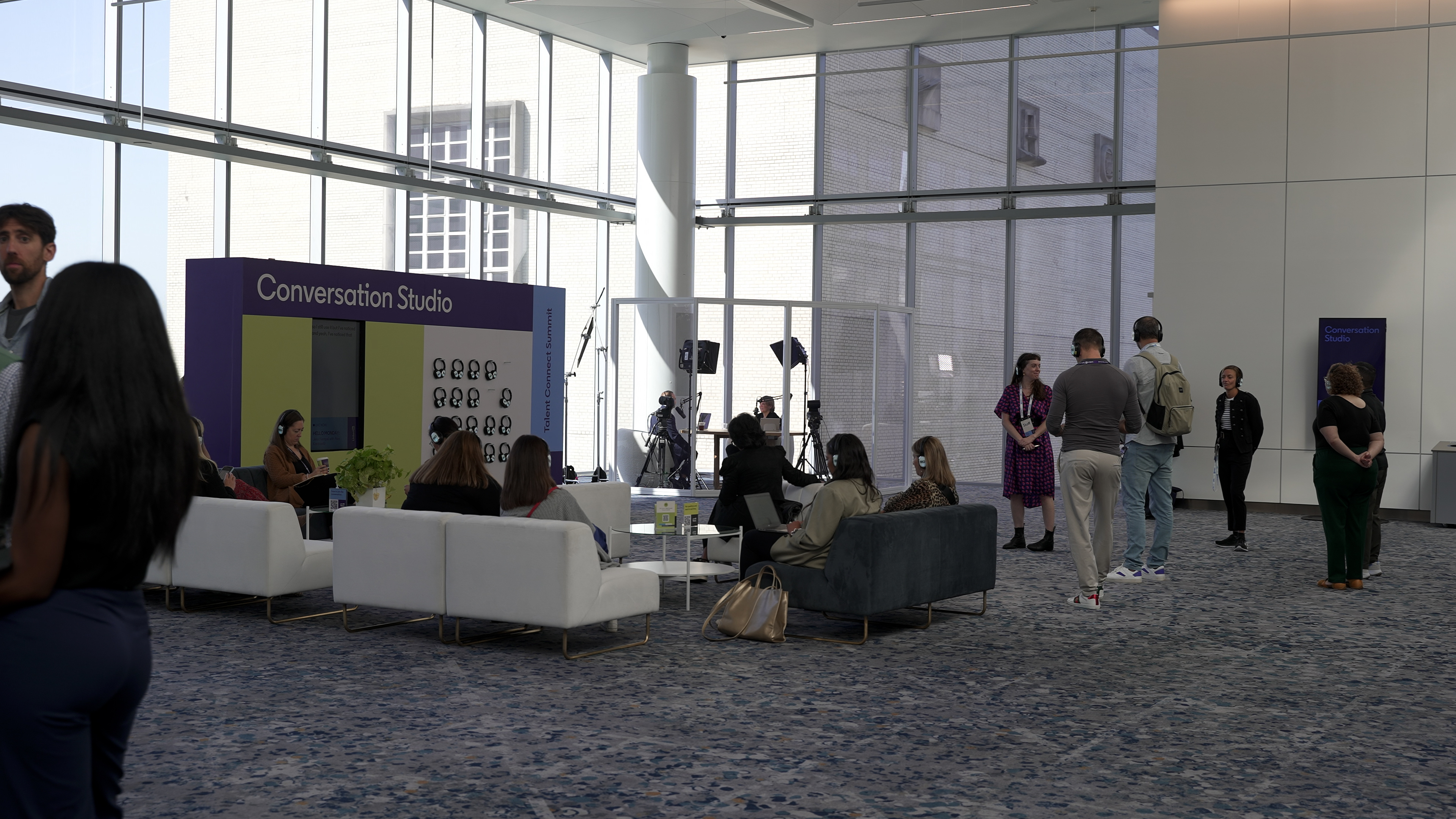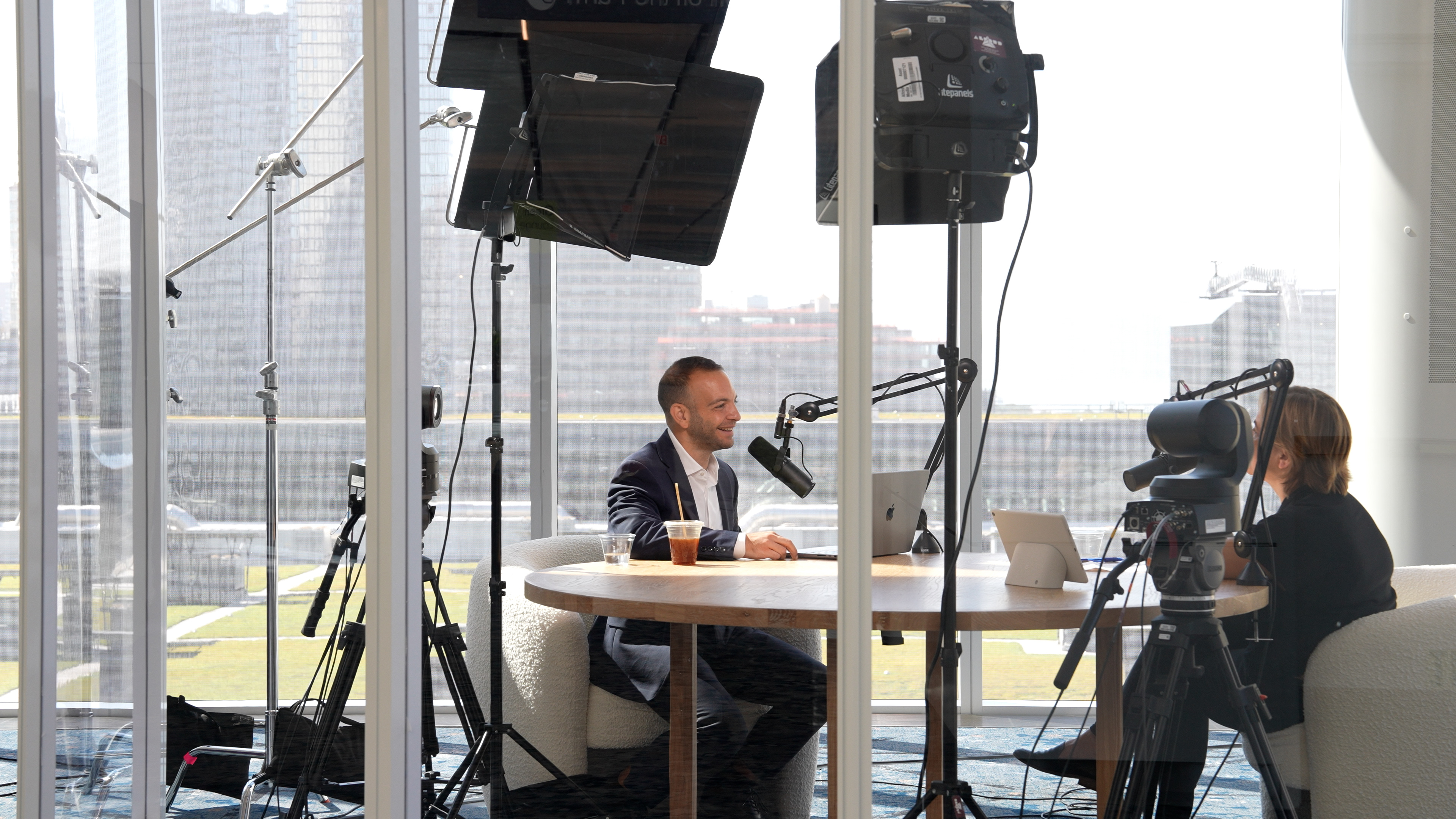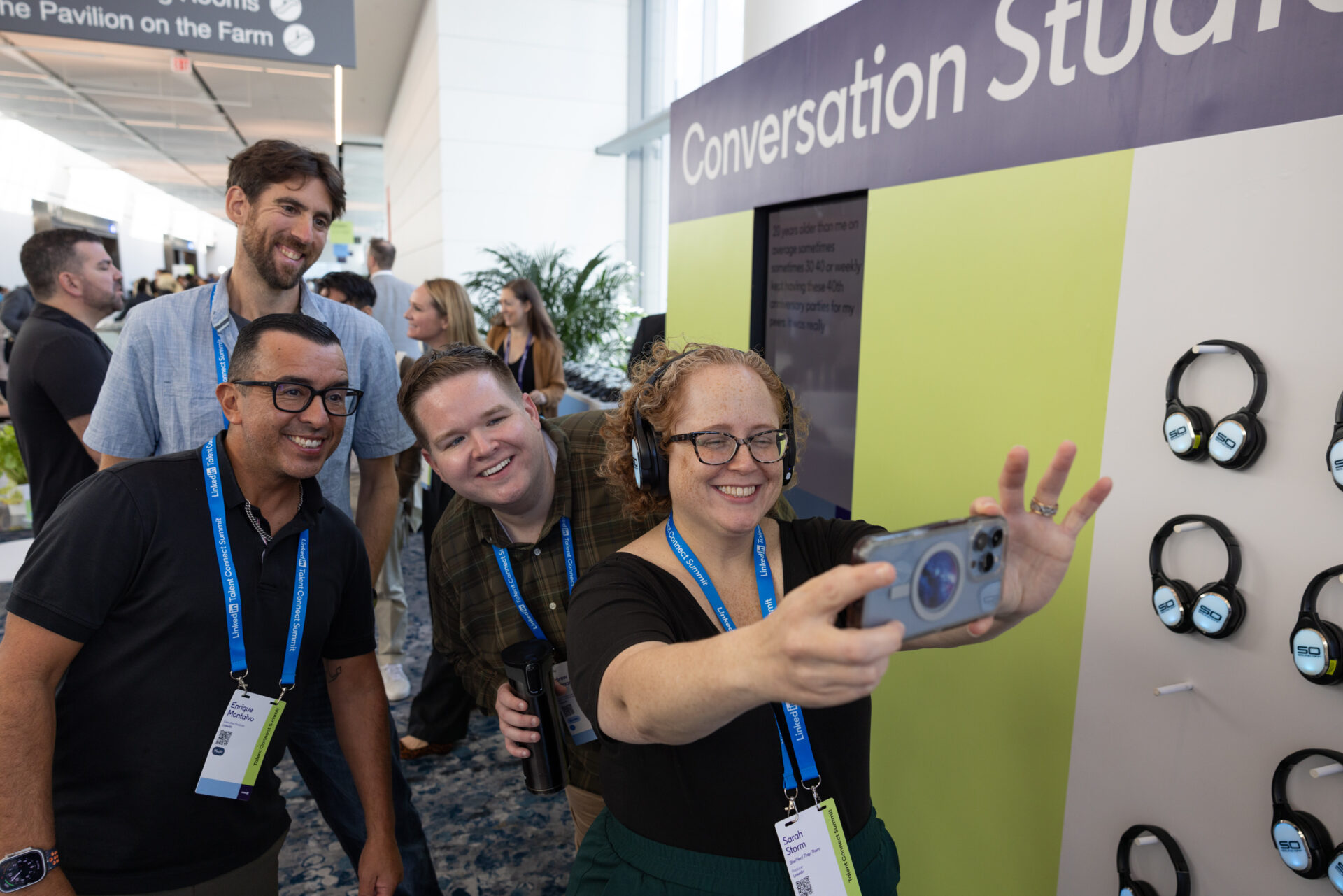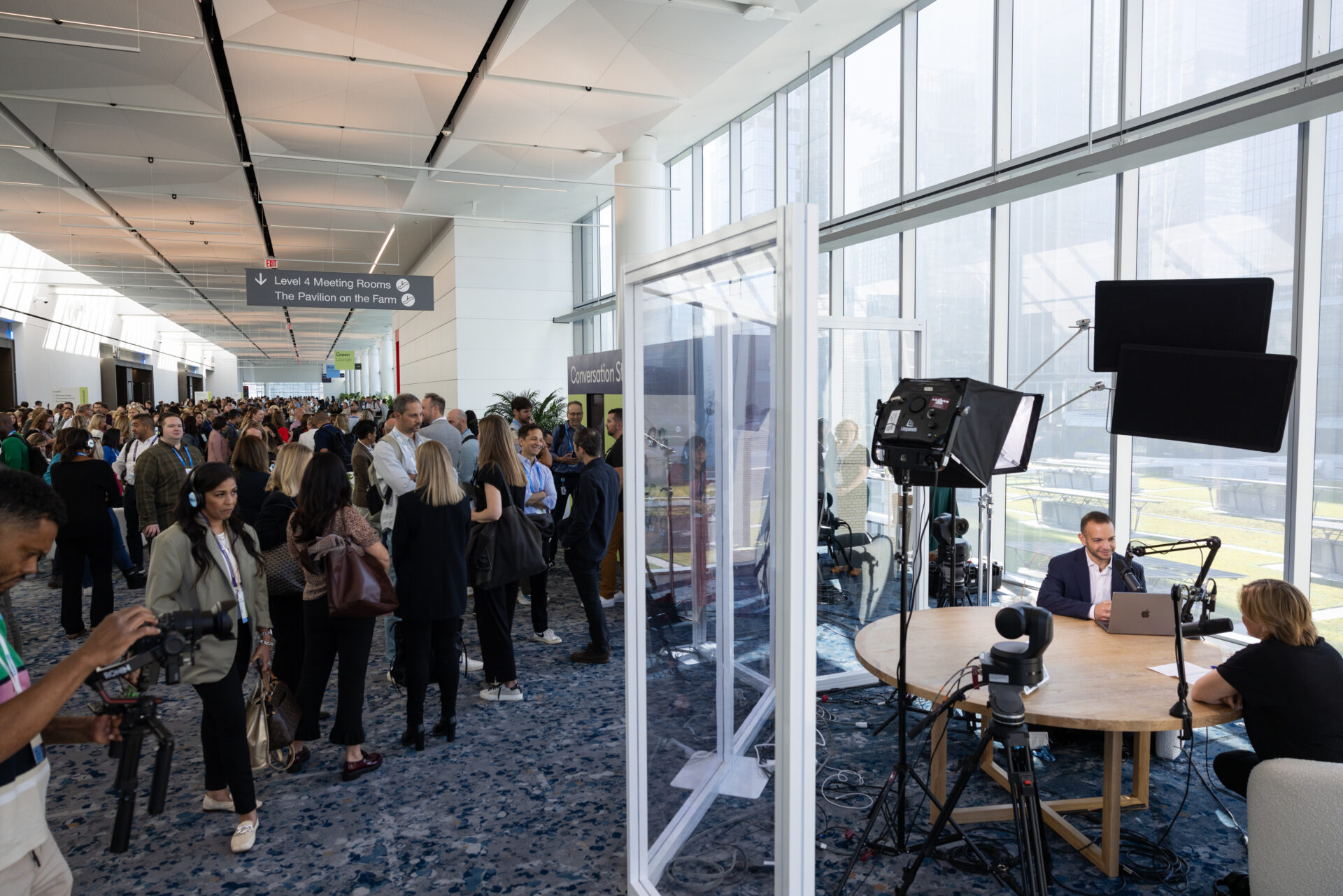 Moments for Celebration
After each rigorous day of presentations and workshop panels, we invited guests to come together to celebrate as a community. 
Day 1 culminated in a welcome reception in the Javits Pavillion. We repurposed the technical build of the Insights Corner turning it into the Soundcheck Station for the party. A dynamic jukebox visualization played on the LED screen paired with a curated music track, triggered by guests scanning their drink napkin at the podium. 
To promote this year's focus on Learning & Upskilling, we invited attendees to try a new skill themselves, mixing and pouring their own candles, creating a memorable party favor to take home while underlining a relevant topic of note.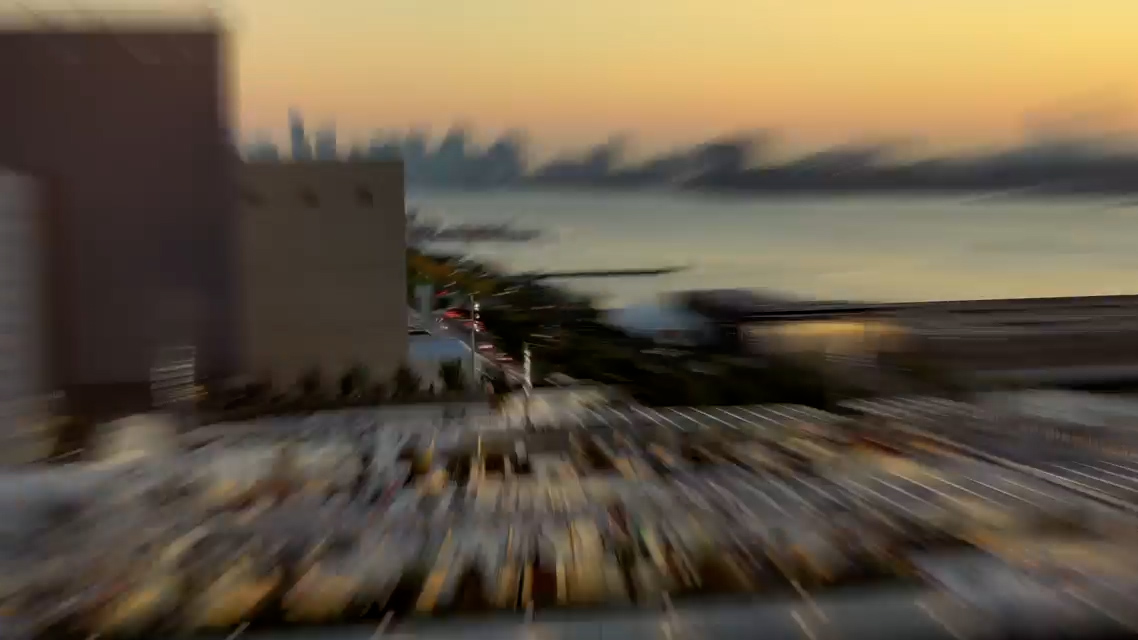 Day 2 brought attendees to The Met, inspiring the new and welcoming the unusual when finding solutions that change our work today. We conceptualized Avant Garde-n, a theme fit for the grandiose venue, where we transform the Avant Garde into a garden / floral theme, inviting guests to connect, seed ideas, and celebrate change together.