Tool and Netflix, in association with their new summer series, SEX/LIFE created a campaign that sizzles as much off the TV screen, enticing female audience everywhere to catch this must-see watch of the season.
The show spotlights the pressures of motherhood and marriage in a way that challenges our notions of how our past-self-passions can integrate into our present mindsets. The Desire On Demand campaign is a two part campaign that explores Accessing, Acknowledging and Acting on our desires.
Followed by Desire Delivered, an exclusive partnership with Postmates where lucky fans were able to redeem real time rewards. On the series premiere, fans were able to select between 3 different SEX/LIFE limited edition kit delivered to their door.
Selling out in under an hour, the partnership ultimately became one of the most-wanted gift boxes for Postmates. Even fans like Kim Kardashian and Tracy Rumulous were surprised with a custom yet bold gift themselves, as they shared to their 240M+ followers organically on social media.
In Discussing Desire, Tool created a safe space on Clubhouse and encouraged a conversation between key experts and everyday people.
The Roll Out

Discussing Desire
To kick off our campaign for SEX / LIFE, Tool started an actual conversation – on Clubhouse. We dove right into the topics explored in the show, with the experts leading the way.
Tool partnered with Divine Feminine Awakening, a club on Clubhouse that provides a space for audiences to reflect on, re-imagine and redefine the awakening of feminine energy. The Divine Feminine Awakening hosts, Ashley Lewis and Chika Uwazie hosted the event and allowed us to tap into their existing audience of 130,000 listeners. 
We enlisted key influencers that had important voices in women's wellness and sexual health, professional mom-influencers, sex therapists, and beauty and self-care specialists that not only promoted the show but created a reverant discussion during the event.
Our co-hosts, Loom co-founder and CEO, Erica Chidi along with Mother.ly co-founder, Liz Tenety, moderated the talk between our panel of experts. 
By leveraging the themes of the show and combining these different voices, it created an honest and reverent discussion about what desire means in today's world.
Audiences were also treated with a special surprise appearance from SEX/LIFE lead, Sarah Shahi (Billie Connelly) and supporting actress, Margaret Odette (Sasha Show), as they joined the conversation during the event!
Desire Delivered
Tool and Postmates teamed up in an exclusive promotion, where their users were able to get personalized pleasure on demand with a tap of a button. They can select between 3 different custom SEX/LIFE boxes delivered straight to their door.
The Boxes
Tool brought to life the narrative of SEX/LIFE and curated 3 limited edition kits filled with products from favorite vibe-setting brands like Maude, Boy Smells, Lunya, Moon Juice and more. 
Users could choose between the Self-Love, Indulgence or Spice For Two, creating unique outcomes in the experience from their choice. Whether users want to treat themselves, break out of the boring or spice things up with their partner, there's an option for everyone.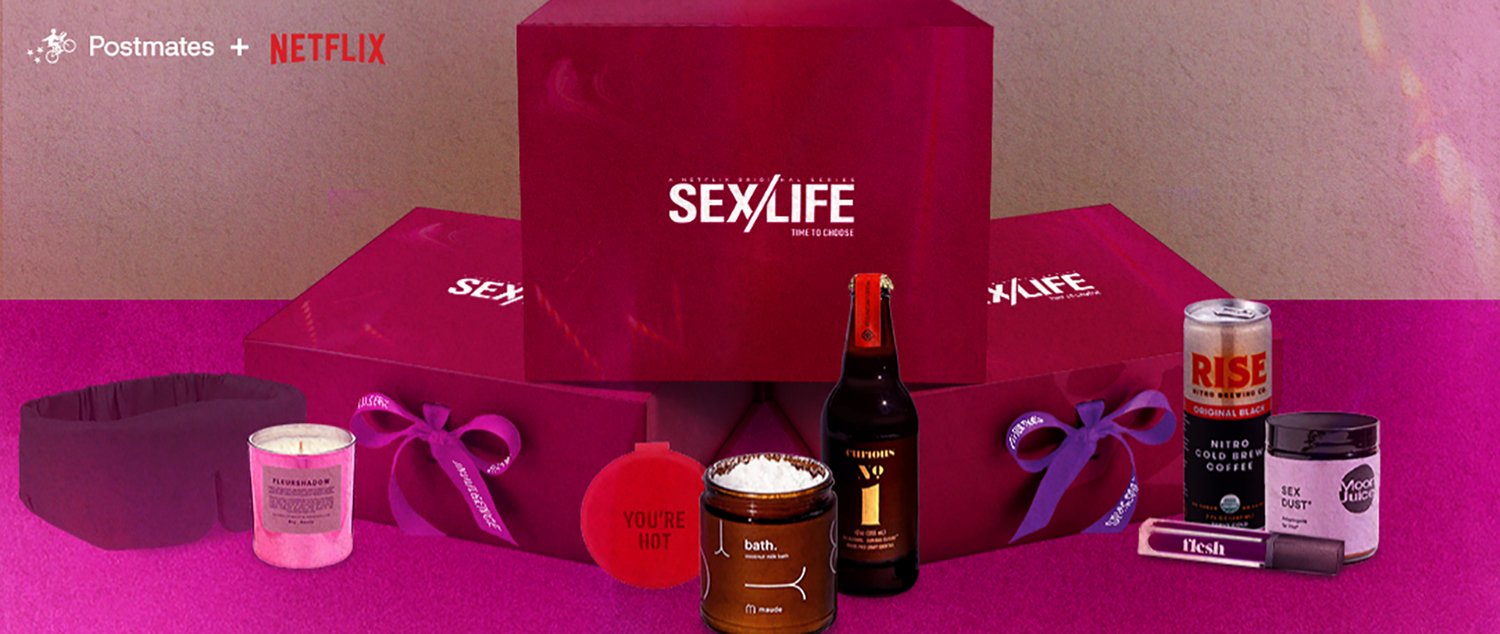 The brand partners also took to their social accounts and newsletters to announce the partnership on the day of the event. They teased the drop with custom assets and encouraged their followers to order their favorite box, ultimately amplifying the promotion.
Postmates Partnership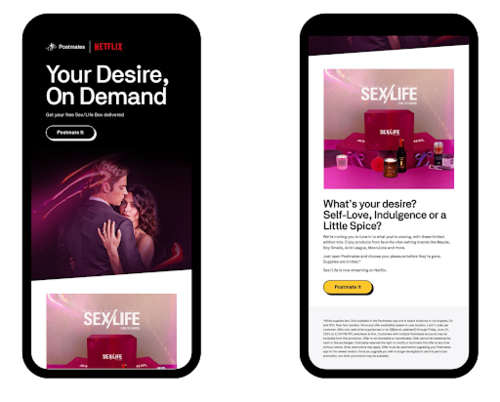 An email blast featuring the promotion was sent to all Postmates subscribers in Los Angeles and New York.
On the day of the event, a promotional banners was place at the hero carousel in the Postmates App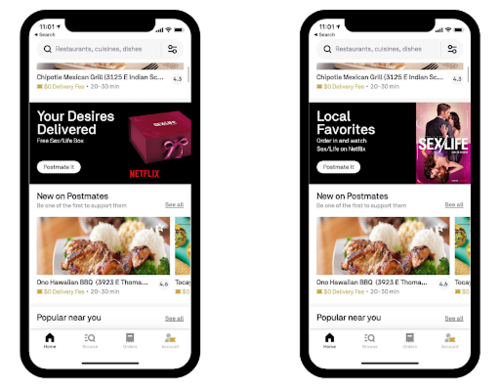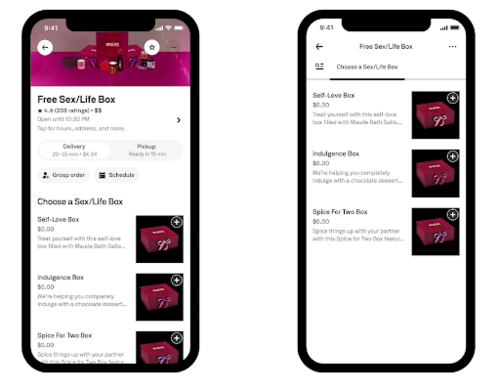 When clicking on the banner, users were brought to a dedicated storefront that allows them to select between 3 box items. Ultimately, our full inventory was sold out within the hour in both Los Angeles and New York.
Social Influencers
Kim Kardashian and her inner circle turned out to be truly enticed by the show, posting organically about the show and their attraction to one of the lead characters, Brad. We quickly created a few custom boxes just for them, including a personalized note, and delivered those to thank them for their public support of the show. With a little luck, Kim Kardashian posted to her 241 Million IG followers.